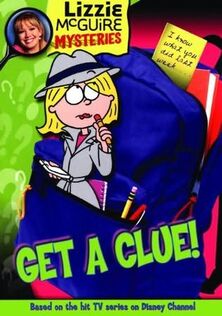 Lizzie McGuire Mysteries is a series of books, written by various authors, based on the Disney series by Terri Minksy. The Novels follow, Lizzie and friends, Gordo and Miranda, dealing with teen-dramas whilst solving everyday mysteries. The stories have a Nancy-Drew Style to them and a collection of thrills and wonder.
The series were first released in the USA from 2004-Early 2006, gaining little success. The series was then released in the UK on 30 November 2009 and gained a popular success with 1999 copies sold. The rest of the Novel series was released from 2010-2016, and 3998 copies were quickly sold. Due to this, Disney Europe, decided to order new LGM books, but it was later discussed it wouldn't be relevant.
Characters (Main)
Edit
Lizzie McGuire
Miranda Sanchez
Gordo Gordon
Matthew McGuire
Joanne McGuire
Samuel McGuire
Kate Sanders
LGM gained fame to teenage kids across the world.
Ad blocker interference detected!
Wikia is a free-to-use site that makes money from advertising. We have a modified experience for viewers using ad blockers

Wikia is not accessible if you've made further modifications. Remove the custom ad blocker rule(s) and the page will load as expected.