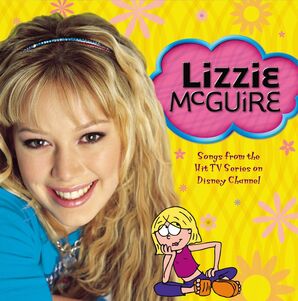 Lizzie Mcguire is the soundtrack to Lizzie Mcguire t.v series. The soundtrack has music from & inspired by the show, it also includes the theme song and I Can't Wait. This was the most popular Lizzie soundtrack, selling 1,000,000 copies. The soundtrack was released on 2002.
Track List
Edit
I Can't Wait - Hilary Duff
Why Can't We Be Friends - Smashmouth
All I Can Do - Jump 5
Us Against The Word - Play
Irresistible - Jessica Simpson
ABC - Jackson 5
Everybody Wants Ya - S Club 7
Start The Commotion - The Wiseguys (featuring Greg Nice)
Walk Me Home - Mandy Moore
What They Gonna Think - Fan_3
Have a Nice Life - Dana Dawson
Theme Song to Lizzie Mcguire
Ad blocker interference detected!
Wikia is a free-to-use site that makes money from advertising. We have a modified experience for viewers using ad blockers

Wikia is not accessible if you've made further modifications. Remove the custom ad blocker rule(s) and the page will load as expected.